Adirondack Camping Games: Fun For Kids Of All Ages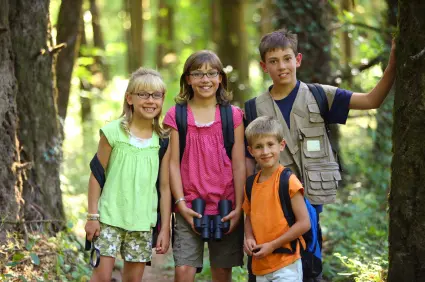 Adirondack campgrounds and rv parks give individuals and families a chance to enjoy a scenic and unique getaway! So…what is there to do at the end of a busy day, on a rainy afternoon, or when you and the kids just want to 'hang out'? These Adirondack camping Fun adirondack camping games for kids!games and campground sing-a-longs are easy and inexpensive ways to just enjoy the outdoors, spend some time connecting with each other, and completely relax. The scenic Adirondack Mountains are a magical place where it's often the simple things that make the best camping memories ever!
It's easy to find the campground that is right for your camping needs. Find helpful tips for camping in the Adirondacks, or contact us for more information on campgrounds or camping in New York State.
No matter which of our campgrounds in New York you choose, the Adirondack Campground Association recommends that for campers' safety all of the suggested activities should be supervised by a responsible parent or adult. Please remember to be aware of your surroundings at all times and respect the campers code of ethics. The Adirondack forest is full of beauty and some surprises. Take care when venturing outside!
Cloud Watching
In the Adirondacks, camping means enjoying the outdoors! This game requires some place where you can get out from under the trees. The trick is to lay back, look up at the sky and make up stories about what you see in the clouds. You'd be amazed at how the clouds can look like different objects, animals, or …?
Scavenger Hunt
No Adirondack camping vacation is complete without one! Make a list of things that can be found around a campsite or on a hiking trail, and see who can find the items fastest. Here are a few ideas for items to look for:
A feather
a spider web
acorns or nuts
see who can come back with the most trash – you can have fun and clean up the woods at the same time!
If you're in an area where nature shouldn't be disturbed, kids can identify things by sight.
Flashlight Walks (Parent supervised)
Taking a walk in the dark is a bit daring, even eerie, and full of unusual sights and sounds. While it's still daylight, have one parent scout out a short, safe trail near your site. Then, after dark, give each child a flashlight, and slowly walk along the trail. Focus on such details as a pair of glowing eyes staring back from a tree branch, or a glistening spider web. Ask your kids to describe what they see. When you've covered a few dozen yards, turn off the flashlights, have everyone be quiet, and listen to the provocative sounds of night. If a child gets scared, quickly turn the flashlights back on.
Board Games
No camping trip in the Adirondacks is complete without a board game or two! Card games take on a whole new level of fun when you're on vacation! Save these for your down-time or in the evening. The simipler the better – and try to get everyone in on the act!
Find Your Tree
At a starting point, blindfold your child and lead her several yards through the woods to a tree. The object of the game is to have her identify the tree once the blindfold is off. With your assistance, have your child run her fingers over the tree bark and smell it. If the tree has big roots or lots of fallen leaves surrounding it, make sure she touches them (be cautious of poison ivy/oak during this exercise). When she feels familiar enough with the tree, walk her back to the starting point, remove the blindfold, and see if she can locate the tree by using sensory clues.
There's no limit to the fun and games you'll enjoy when you are in one the many rv or tent campsites of the Adirondack Campground Association. Discover the joy of the great outdoors! Contact us for more information about camping in NY!