Posted on Thursday, March 26th, 2015 at 3:13 PM in
General
Lake George Americade Motorcycle Rally (this information was borrowed from www.LakeGeorge.com)
This year's Americade Week runs from June 1 – 6, 2015!
Since 1983, the scenic Lake George area has hosted Americade, the world's largest multi-brand motorcycle touring rally. Americade draws over 50,000 riders and passengers each year for a week of events, exhibits and vendors.
Besides a picturesque background, laid-back atmosphere, and winding roads for motorcycling, the Lake George area offers many restaurants, shopping spots and attractions, making it a perfect location for Americade.
Though some locals may complain about the ruckus of thousands of motorcycles thundering through the streets during this week-long motorcycle touring rally, there is nothing quite like it, and no doubt about it, Americade is one of the most popular annual events in the Northeast!
Each year a highlight of Americade week is the TourExpo Tradeshow, which takes place at Million Dollar Beach. The Tradeshow features hundreds of vendors from all over the world.  Motorcyclists can expect to preview anything and everything from the best riding gear to the latest motorcycle accessories and gadgets.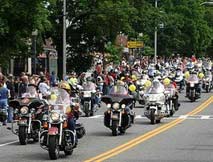 Americade 2015 – June 1 to 6 – offers motorcycle enthusiasts a wealth of exciting events and activities all week long, ranging from stunt shows and scavenger hunts to boat cruises, guided motorcycle tours and more!
Cruise on up to Lake George for these Annual Favorites:
Fireworks
Parades
NEW: Festival of Lights
Dinners
Rides – Unguided, guided, and self-guided MiniTours along scenic roads
Charity Events
Motorcycle Vendors
Contests
Boat Rides
Demos
Door Prizes
Performances by World Champion Motorcyclists
…and Much More!

TIP: Head to Canada Street during Lake George Americade Week to check out hundreds, if not thousands, of motorcyclists and their prized bikes! From Yamahas and Hondas, to BMWs and Harleys, to Ducatis and Kawasakis, you are sure to see every make and model polished to perfection!
Looking for specific information on Americade 2015? View a full schedule of 2015 Americade events.
Interested in becoming a volunteer? Contact TourExpo, Americade event organizers.